Ultimate Guide to Different Types of Outdoor Nativity Sets
Maybe you are celebrating your first Christmas in your new home. Perhaps you have children and want to share the joy of Christmas with them – and your neighborhood – in a tangible way. It could simply be that your old outdoor manager scene one has seen better days.
Whatever your reason for shopping for a new outdoor nativity set, buying one can be a daunting task. Both in retail stores and online, there are many choices. Not only does the price range vary considerably, but the design and the materials also run gamut from whimsical to traditional.
To help you make the purchase decision that is right for you and your budget, we have put together this guide to different types of outdoor nativity sets. We have organized our picks by the materials of which they are made, and we have included size and pricing information, using Amazon as a general guide.
---
Plastic Outdoor Nativity Sets

If you are looking for long-lasting and easy-care options for your outdoor nativity scene, you will want to consider the many plastic options. PVC plastic is weather-resistant, non-fading and easy to clean with only a garden hose.
Outdoor Nativity Store Outdoor Nativity Sets
Available in two styles (color and white) and three different sizes (standard, large, and life-size), Outdoor Nativity Store offers the largest range of options when it comes to durable yard nativity scenes. Outdoor Nativity Store is a Christian company and manufacturers the nativities in the USA.
The Holy Family Scene is priced at $110 and upwards, depending on the size and style. Shipping is free on all of the nativities. This outdoor manager set features Mary (holding Baby Jesus), Joseph, the cradle and a collapsible stable. When assembled, the standard-size stable measures 60″ wide x 45″ high, and Mary and Joseph are 24″ high. If you're looking to make a big splash, consider buying the complete outdoor nativity set.
Every Outdoor Nativity Store nativity set is made from heavy-duty, weather-resistant PVC plastic that will withstand all sorts of whether (rain, snow, sun, you name it). Storing the nativity scene after Christmas is easy too. The standard size Holy Family set stores in an 18″ x 24″ x 4″ container, and since the nativity figures are flat, even the large and life-size outdoor nativity sets don't take up tons of space in your attic or garage or basement.
You can set it up in minutes with only a mallet-style hammer and the company provides a helpful installation video as well. By adding a simple floodlight, you can turn the scene into a vivid lighted outdoor nativity set. The great thing about this brand of outdoor nativity set is how it is expandable with add-on outdoor nativity set figures, which can be purchased separately from Outdoor Nativity Store.
One Amazon reviewer writes, "We set it up Thanksgiving weekend. Couldn't have been easier. Not long afterwards, we had at least six straight days and nights of rain. I've waited a couple of days to allow the set to dry, and gave it an inspection. I honestly can't tell that it just spent a week in the rain. There is not any swelling or warping of the pieces, nor color fading. We will definitely purchase the remaining pieces in time for next year (been taxing the self-control to wait)."
Teak Isle Christmas Outdoor Nativity Set
Like Outdoor Nativity Store outdoor nativity sets, Teak Isle's nativities are made of PVC plastic and has comparable durability in harsh whether. The basic outdoor nativity set with Mary, Joseph, stable, and sheep is priced at $169.99 on Amazon. The set can store compactly in a 43″ x 29″ x 2″ container. Set up is fairly easy, as the pieces snap together. However, unlike Outdoor Nativity Store's products, these nativity sets require the customer to screw on support brackets themselves, which takes additional time.
The assembled manger scene measures 50″ tall x 46″ wide x 22″ deep. You can add on later with an angel, shepherds and the Three Wisemen, if you desire.
An Amazon reviewer writes, "I like the dignity and subtle peacefulness of the silhouette this scene offers. It is simple, and says everything, in my opinion."
Front Yard Originals Outdoor White Nativity Set
This set, which is made of white PVC plastic board, slides together easily without the need of tools. The assembled display features Mary, Joseph, two animals and the Baby in the cradle. The design is based on the same Winfield Collection pattern (Silent Night) as Teak Isle's nativity, with some slight differences. It measures 47″ wide x 50″ tall x 22″ deep and it stores flat for easy storage. The price is $129.95, but keep in mind that shipping is an additional $30.
An Amazon buyer writes, "The pieces are machined to very tight tolerances and go together like a jigsaw puzzle. Very sturdy. Just need to take care not to rush and force the pieces too hard, as you could crack / break them. I would recommend this product, looks great in the front yard."
---
Lighted Outdoor Nativity Scenes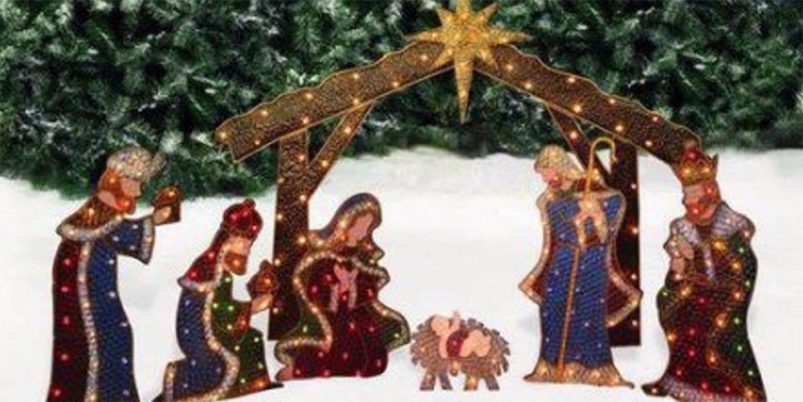 Do you love decorating your home with lights at Christmas? If so, you may want to consider a lighted nativity scene as part of your holiday display.
Holiday Time Nativity Set with Manger Light Sculpture
This set, which is priced at $244.95, consists of a metal frame, PVC plastic, bulbs and metal stakes. The heights of the figures are as follows: Wisemen, 31, 30, and 23 inches; Joseph, 30 inches; Mary, 23 inches; Jesus, 12 inches; and arch with star, 51 inches.
Several Amazon reviewers report that it is easy to assemble but they are concerned about its instability. One writes. "I ordered it and set it up all by myself. Which means it was EASY to assemble, because I am not so good at those kinds of things. The material is a bit flimsy, but durable for a few years I'd imagine if well maintained. I had to use some poles that I bought separately to add support to the manger. If it gets windy it will blow over without constructive preparation."
Fontanini Yard Art Collection
Fontanini is one of the most popular brands of tabletop nativity scenes in the world. They also make an outdoor nativity set. Priced at $187.24, this lighted outdoor nativity features Joseph, Mary, and Baby Jesus on a cradle. The set is made of PVC and metal, and the figures are pre-pit with 200 clear lights. Dimensions of the one-sided assembled display are 48″ high x 66″ wide.
The lone reviewer of this set on the Amazon site says it is "not even close from the advertising showed, so disappointed."
---
Inflatable Outdoor Nativity Sets
Children and the young at heart get a big kick out of inflatable lawn decorations, and they can be deflated, folded and packed away for storage. The downside to inflatable outdoor nativity sets, in addition to the noise of the air blower, is the unsightliness of the deflated nativities during the daytime. Also: Be sure to anchor your inflatables securely to prevent them from taking off in a winter breeze.
LB International Inflatable Nativity Scene
This colorful nativity scene is made of durable, weatherproof nylon. Priced at $99.90, the inflated scene measures 63 inches high. It depicts Joseph, Mary, the Three Kings, a lamb and the Baby.
Several Amazon reviewers report trouble with it not anchoring properly. One writes that it is "super cute but the stakes are not long enough to keep it secure and the wind catches under it and blows it around."
Home Accents Inflatable Nativity Yard Outdoor Decoration
With a price tag of $134.95, this inflatable set measures 6' tall by 7' wide and depicts, an angel on the stable, Joseph, Mary, the Baby, a sheep and a donkey. It is lighted and comes with tether topes and yard stakes.
Although one of the four reviewers on Amazon apparently was sold a used product, the other three reviewers were pleased with their purchases. One wrote," Looks very nice in my yard. I added bales of straw behind it and put a strand of clear lights around it."
---
Metal Outdoor Nativity Sets
A stiff, durable material, metal is another option for your outdoor nativity set. The nativity figures are flat like the plastic nativities from Outdoor Nativity Store or Teak Isle, but can be more heavy and more susceptible to corrosion in moist or damp weather.
OTC Nativity Scene Christmas Metal Yard Decor
This three-piece set, which sells for $66.96 on Amazon, contains Mary (28"), Joseph (43") and Baby Jesus (14") as three separate figures made of metal with a baked-on painted weather resistant finish.
Some reviewers comment that the figures blow over in the wind. Here is one reviewer's comment: "At this moment the holy family are on their faces in the front yard. It's been windy, but I think it should stand up to some punishment. The pieces are sturdy, and seem well made. Basically the stakes that are built in to the pieces are not long enough."
Fun Express Super Deluxe Nativity Scene
This is a large metal set, and the price of $238.41 reflects that. The set includes Mary, Joseph, Baby Jesus, the Three Kings, an angel, a shepherd, two lambs and a camel that are constructed of coated painted metal. Each piece has stakes and a pull-out metal back bracket. The taller pieces are about 45 inches high
One reviewer writes that after purchase she and her husband added clear polyurethane spray to each piece for protection and has strengthened the stakes for more stability. "They are a great size, they are very colorful, and they really do look great against our white house," she writes.
---
Blow-mold Outdoor Nativity Sets
Another option for your outdoor nativity set is blow-mold. This style of outdoor lawn figures have been around for decades and feature hollow plastic parts. By now, they might even qualify as a vintage Christmas decoration. They are easy to use and durable, but they are large to store. The colors can fade over time as well.
Lighted Child Nativity Scene Set
Priced at $199.99, this blow-mold set involves no assembly other than placing it where you want it to go and plugging it in to light it.
You can clean the three figures – a child-like Mary and Joseph and the Baby Jesus – with mild soap and water. Joseph measures 23 x 19 x 9.5 inches. You can add to the set with other purchases.
Reviewers comment that the figures are shorter than they expected.
Lighted Outdoor Life Size Nativity Holy Family Blow Mold Yard Set
This blow- mold set features a more traditional=looking Mary and Joseph. Joseph is 39″ tall, Mary is 37″ tall, and Baby Jesus in His crib is 9″ tall.
This $99.99 set is on Amazon but orders are filled through other vendors. No reviews are available.
---
Wood Outdoor Nativity Sets
Do you like the look of wood for your outdoor nativity scene? Several companies sell wood stables for your yard display.
LB International Wooden Outdoor Religious Nativity Stable
This 55" x 74″x 55" stable weighs 50 pounds and sells for $399.99 through third-party sellers on Amazon. Several reviewers complain that the wood is thin and that the pre-drilled holes do not line up correctly. Here is one example: "It was quite expensive, but it does look beautiful. It broke apart in a wind storm we had a few days ago, but my son was able to put it back together."
Zenature Livestock Feeder
Nativity scene animals are a traditional part of Christmas displays. To give your nativity stable an authentic feel, here is a wooden trough for the manger. Priced at $36 on Amazon, the feeder, which has a removable bottom for easy cleaning, is made of white pine wood without any metal parts. The dimensions are dimensions are 17 3/4″ high x 24″ long x 16 1/2″ wide.
Several reviewers pint out that the feeder is difficult to assemble. One reviewer writes, "It would help if the directions gave steps to follow, so the customer would not have a trial-and-error setup. The cross pieces forming the legs and supporting the long sides have nothing to secure them together until you attach the long sides. So you really struggle with several pieces at a time."
---
Deciding which type of outdoor nativity set is right for you
As you can see, there are many choices when it comes to choosing the material for an outdoor nativity set. Your personal preferences and your budget will help determine your decision. In addition to reviewing the products on this list, think of the nativity sets you have admired admire in your own neighborhood or community over recent holiday seasons.
Then contact those home or business owner about the durability and the cost of those sets and where to get them. Good luck!