7 Tips for Planning a Successful Live Nativity Scene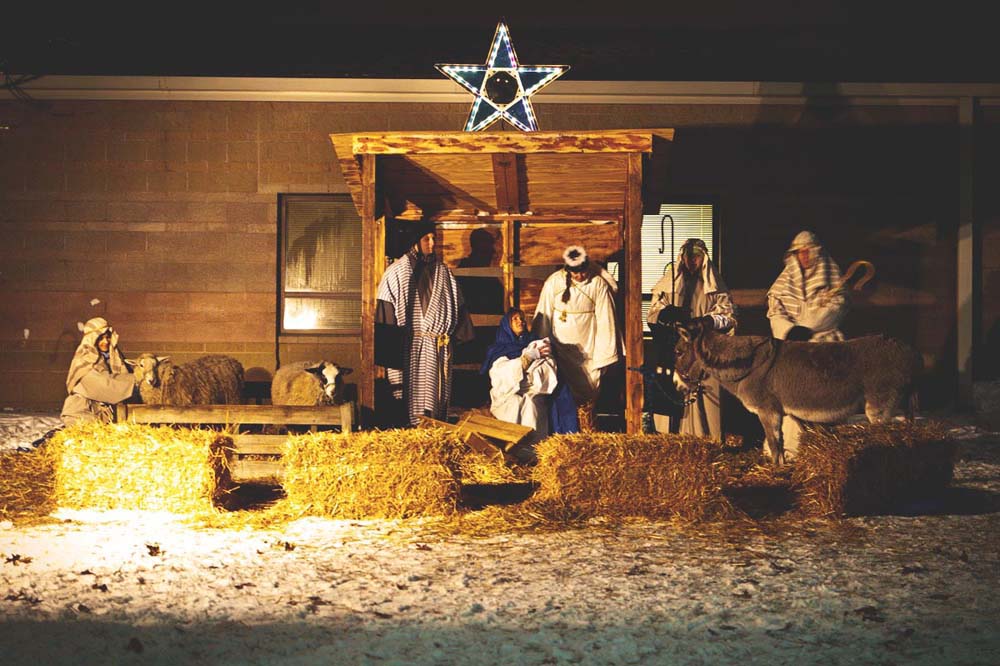 Did you know that The Radiant Foundation in Provo, Utah holds the Guinness World Record for the most figures in a live nativity scene? In December 2014, the organization's nativity scene boasted 1,039 participants, including Mary, Joseph, baby Jesus, wise men, a camel, donkey, a few sheep, and literally hundreds of angels.
While that event must have made a real impact, there are ways your church or school's living nativity scene can be powerful with far fewer participants. Based upon my involvement with my church's live nativity scene for the past few years, here are seven tips for making your live nativity a success in your community.
1. Get started early
It can be hard for some of us to focus on Christmas before Thanksgiving, but if you want to have a successful live nativity scene, you need to begin your preparations in the fall. Set the date, start lining up your volunteers, coordinate the animals and plan an initial volunteer meeting for October.
For most of us, the month between Thanksgiving and Christmas is busy with commitments, so by planning early you will ensure your volunteers make your event a priority.
2. Publicize your Live Nativity Scene
Community calendars fill up early for holiday events. As soon as you have your dates set, notify your local newspaper, radio and TV stations, and community websites with a simple press release about the event. You can send follow-up emails as the event draws closer.
Also, post information about the upcoming event on your church website page and on your social media pages.
3. Brainstorm ideas
At your initial volunteer meeting, ask open-ended questions about what went well last year with your live nativity scene and what did not go well. If this is your first living nativity, discuss your opinions on other live nativity scenes you have attended. Discuss ideas.
Even though the characters and the story remains the same, you can make changes in a live nativity from year to year. These changes can make the event feel fresh and exciting for both your participants and your guests.
4. Make expectations clear
Participating in a live nativity display is an amazing opportunity, but do not assume your "cast" and you are all on the same page when it comes to expectations. For example, be sure "Mary" knows she cannot pull out her smartphone while "in character." If your baby Jesus is a real baby, have a plan in place for when he gets hungry or fussy. Make sure the animals are safe, secure, and well cared for during the event.
5. Take time with hair and costumes
The way your live nativity "actors" look is very important to how your guests perceive the whole event. Think through the shoes, clothing and head coverings they will wear carefully.
A pair of jeans and sneakers showing prominently under a shepherd's robe can throw off the whole effect. Your costume pieces need not be fancy, but they should be in keeping with Bible times and with the whole story of the birth of Jesus.
6. Plan for winter weather
Depending on where you live, December weather can be a tricky part of planning an outdoor live nativity. On different years, we have had to deal with snow and ice, high gusty winds, and driving rain. Think through the possibilities and try to prepare for what might come.
Here are a few ideas we have used:
Portable heaters and/or fire pits near the participants for warmth
Wood chips on the lawn where guests walk
Umbrellas for guests
Anchoring down of items and scenery that might otherwise blow away
7. Take photos and videos
Give one or two people the responsibility of taking photos and filming your event. After our first live nativity scene, we realized we forgot this step and were sorry we didn't have video clips to put together for a promotional video for our Facebook page the following year.
Finally, take time to pray and thank God for the way He will work in your volunteers and in your community through your live nativity. It is a joyful way to celebrate the birth of the Savior.