Choosing the Right Outdoor Christmas Decorations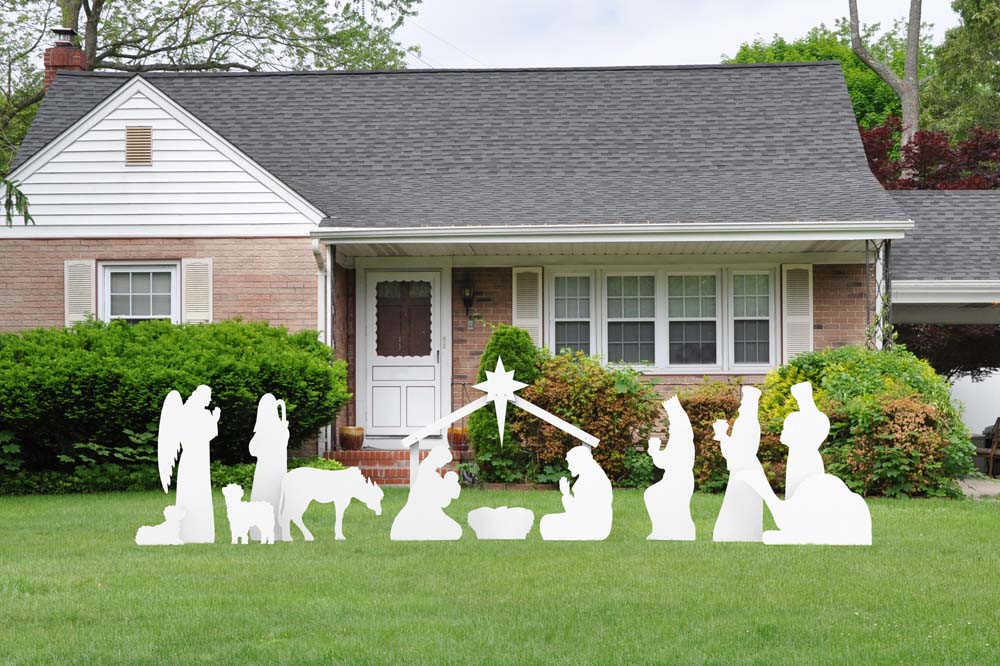 The holidays only come around once a year, which gives you all the more reason to go all-out with your outdoor christmas decorations. When the snow is falling, the weather dips and the man in red slides down your chimney, it's time to get in the spirit by decorating the outside of your house and yard with lights, inflatable reindeer and snowman, and best of all – nativity sets!
If you're gearing up for the Christmas season, read on to find out how to choose the best outdoor holiday decorations.
Spreading Joy Around Your Neighborhood
When you first start setting up Christmas decorations, talk a walk around your neighborhood for inspiration (and maybe a little friendly competition). Which approach did your neighbors take, exactly; are they obviously competing for the best and brightest decorations, or are they taking a more subdued approach? If you're just looking for some inspiration, try taking a few ideas from each house. For example, if you think icicle lights look great above your neighbor's home, you can try them out on your own! And if you're trying to have the most wonderfully-decorated house in town, you may need to try some authentic holiday decorations.
An outdoor nativity set is the perfect way to show off your love for the holidays. Whether you choose the color or silhouette version, these yard decorations will bring meaning to the exterior of your home. What better way to share the true joy of Christmas?
We all look forward to this jolly time of year and decorating your house should be a large part of the fun. If you have a lot of friends around the neighborhood, how about setting up a time that you all decorate at the same time? Bring some hot chocolate, some Bing Crosby holiday records and make an event out of it!
The Best Christmas Decorations are like Day and Night
Are you in a rural area with a large, sprawling yard or are you in an urban area with a small porch? Ask yourself if you have the space for large, electricity-driven night decorations, or if a lightless decoration, such as a ribbon on the door or garland around a fence is more applicable to your home style and design. For big fans of colored Christmas decorations with available space, there are tons of options. Twinkling lights can be incorporated into ribbons, wreaths and garlands to make your house North Pole -friendly 24 hours a day! Just a reminder, more lights means more more electricity, so your electrical bill may skyrocket during the month of December if you're not careful.
But if electricity isn't a concern for you during the Christmas season, there's a ton of great stuff you can do with Christmas lights.
Christmas Lights: An Art Form
Everyone knows that Christmas lights are a necessity when decorating the outside of your home. But choosing the best colors and types of Christmas lights might be a little tough. Most people choose to string them around trees, but there's oh so much more you can do!
Wrap lights inside your wreaths, around your bushes and trees, and along the edges of your house and walkways. Braid some lights through your porch banister or stair railing and clip some more to your windows to create a dazzling reflection effect at night.
Lighting strings come with as few as 25 bulbs and as many as 200. Lighting clips make installation easy and are designed to work without poking holes in your roofing or trim. Choose lighting clips based on the size of the bulbs (see Bulbology, below) in your lighting strings and to what building part you'll attach the strings. Clips grab the light sockets, so you can position the bulbs upright, hanging down or horizontally. A pack of 50 all-purpose clips is about $6.
Christmas lights come in all different colors, and many variations of white; a warm, yellowish-glowing white from Incandescent lighting and a bright, blue-ish white that shines from LED lighting. So if you're searching for white christmas lights, which should you choose?
Bright LED vs Warm White Christmas Lights
According to DIY website, Room for Improvements, "The biggest benefit of the warm white Christmas lights is that they are not a harsh light – they give off a yellowish glow and are perfect for creating a warm, cozy atmosphere. If you have Christmas decorations that were purchased a few years back and they appear to give off a warm glow, they are most likely incandescent white Christmas lights. One drawback to using incandescent lights is that they draw more energy than LED lights, so you won't find a battery-operated version since the amount of energy that it draws would kill your batteries too quickly.
Bright LED White Christmas Lights – Many people refer to LED white Christmas lights as being "contemporary lights" because of the blue-like light that they give off. This is mainly due to the lack of light that projects out; unlike an incandescent light that "glows." The LED white light is sharp and is great if you want your Christmas decorations to be extremely bright or if you want to achieve an icy look. There are some advantages to using LED white Christmas lights; low energy use, low breakage rate, and because of the low power they require, you can add more lights to 1 plug. The downside is that there are several manufacturers of LED white lights so it might be challenging to match up the color if you spread your purchases over the years."
Choosing the Correct Color
When you think of Christmas, which colors do you naturally think of? Red, green, white, blue, most likely? Incorporating these colors into your overall light aesthetic will help your home mirror the spirit of the season. But just because those have traditionally been associated with Christmas doesn't mean you can't get creative with your colored light choices! Overall, sticking to a warm-leaning color palette is probably best. Reds, greens, and blues fit into this category. Incorporating hues of each to create more depth and attractiveness. Or, you may try to create a minimalist feel by only using one of these colors.
These types of colors play into our feelings and are what makes this a time of year warm, welcoming and happy. They remind us of Christmases past, giving us the nostalgia of growing up, our family, friends, and faith (oh yeah, and presents too!).
Wooden Outdoor Christmas Decorations
To make your home stand out from all the mass-produced, big-box store Christmas decorations, why not try wooden outdoor decorations, instead? These incredible decorations will put you in the holiday spirit while never betraying your tenacious style. You can even check out our guide to large outdoor Christmas decorations for tips.
Adorn Your House with Vintage Seasonal Decor

If you take a trip to your local antique store, chances are you may be able to find a vintage wooden sled. A simple idea is to find one of these in town or on Craigslist or eBay and simply lean it up next to the front door. With a twisty tie, zip tie, or string, attach a small wreath or pine branch and a bright red ribbon to tie the look together.
Another easy way to incorporate wood into your outdoor Christmas decorations is with firewood. There are a number of craft tutorials online in which they teach you how to carve a fireman or reindeer. But if you don't want to take the time messing with that, there are some simple ideas you can use. For example, find an old wooden crate and fill it with firewood. Make a couple candle holders out of firewood by leveling each end. Set candles on top and wrap a garland around the base. Place these on top of your crate and put it next to your door to create a rustic yet inviting feel for your porch.
Outdoor Nativity Sets

Not only are outdoor nativity sets a great way to show your Christmas spirit, they will last you for years to come and are incredibly versatile as well. In other words, they're a great investment for any outdoor Christmas decorations enthusiast!
Whereas wood gets rotten from the weather, a sturdy outdoor nativity set should be made of strong, PVC plastic that will be protected from snow, wind, rain, and sun fading. Much like our 9-Piece Add-on Classic Outdoor Nativity Set, not only is it durable, but you can turn it into a complete outdoor nativity scene one piece at a time. So if you think your yard is just too small for one camel, you can tack on another one (or three) for next season!
Once again, evaluate how much space you have. Do you want a small, medium, or large nativity set and with how many figures? Our sets include the Holy Family, Three Wise Men, angels and shepherds, many animals including sheeps, camels, and donkeys, and of course the place where Jesus was admired for the first time – a cradle and stable. Sets can be as large as a full-scene 12 pieces, or as small as one angel. Start with a Holy Family Scene and add separate pieces along the way – or begin with the complete outdoor nativity scene. The options are almost limitless. Whatever you choose, you'll certainly be sharing the true joy of Christmas!
Choosing the Right Nativity Scene for your Church
Many churches are coming to the point in their existence where it's time to replace the beloved thirty, forty, or even fifty-year-old outdoor nativity set that just can't be repaired or repainted and used for another Christmas. Others understand that large outdoor nativity scenes makes a larger public gesture of their commitment to faith – especially around the Christmas season when the spirit is upon us and attendance shoots up. You may be a church parishioner who is the head of a church committee appointed by the priest or minister to search out a new and eye-catching nativity set. Outdoor Nativity Store offers gorgeous, durable, and versatile nativity sets that feature all the figurines you need to make your church stand out from the others in your town.